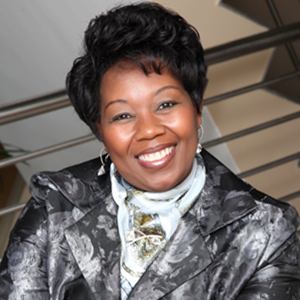 Portia Tau-Sekati is the powerhouse behind the Property Sector Charter Council which strives for transformed property relations in South Africa.
She is passionate about making a real difference in this country, saying that is what keeps her energised, convinced, committed and determined.
Portia shared her thoughts with Grant Thornton Verification Services this August, in recognition and celebration of South Africa's Women's Month.
An interview with Portia Tau-Sekati, CEO: Property Sector Charter Council
Tell us more about your background, and how you became involved in the property sector?
I was a group marketing executive when I was recruited into the residential property industry as the first CEO of the National Association of Real Estate Agencies (Narea). The idea was to create an engagement platform for both the private and public sectors, and government in particular, when new legislation was introduced.
When I became CEO of the Property Sector Charter Council (PSCC) I began working with both residential and commercial property.
Are you involved in any other BEE or property initiatives?
As a sector we have put a few BBBEE initiatives and programmes in place, which we run from our offices. We partner with other entities to run additional programmes. I am proud of the property sector's ethos of working together- it makes the challenge of transforming the sector slightly easier.
I have the honour to be the convenor of the Sector Charter forum for all the sectors with their own B-BBEE charters. There are 13 in all, including transport, petroleum, agri, finance, tourism, forestry, chartered accountants, marketing advertising and communication, defence, ICT, construction and property. In some sectors working together is not easy.
Much of what we all do impacts each other and this forum platform provides us with a valuable space to share knowledge, experiences, lessons and to get a good idea of where each sector is in terms of BEE and the challenges they face.
What is your role in the Property Sector Charter Council (PSCC)?
The main drive of the PSCC is to create an environment conducive for transformation to take place, and we do this by legislating targets for every entity in the property sector to strive to achieve. That's one part of what we do. We've chosen to have our own code, different from the generic one, in order to enhance the meaningful participation of previously disadvantaged individuals (PDI) by applying the unique knowledge and understanding of the sector.
One of the key mandates of the PSCC is to monitor our adherence to this code and generate a report on the state of transformation for the property sector. We published our most recent transformation report in June 2017, and as a sector, we are achieving a Level 4 against the property sector code.
As part of creating a consolidated body of knowledge which fosters consistent understanding of the property sector and its transformation impact – we embarked on a research program. Our first property report was titled "The size of the South African Property Sector", and was published in 2012. The review of the same study was published in 2016. These reports indicate that the value of the sector grew from R4.9 trillion from 2012 to R5.3 trillion in 2015. We also researched the "Impact of the South African Property Sector on the National Economy" – this study aimed to tell us what the Property sector contributes to the GDP and to the fiscus of SA, who the players are, and what were the values of the businesses in the various stages of the property life cycle .
Amongst others, one of the flagship projects that PSCC runs is the Property and Construction Career week. We focus on promoting property and construction as career options for learners in township high schools. The majority of learners from the townships in South Africans don't understand property and neither do their parents nor their teachers, who are likely to have never owned property or at best they are first time owners. We need to create awareness about owning property so that we have a pool of PDIs to take over in order to sustain the transformation in the Property Sector.
Finally, we support the entire industry by providing necessary guidance on sector specific matters affecting B-BBEE, to entities within the sector. We're not at our final destination yet, but the road is paved and we're well on our way. We know exactly where we're going because the targets are clear. And we have to make continuous efforts in improving where we are and to really make the necessary change.
One thing we as the council also pride ourselves on is that we have created a very healthy environment for everyone to raise their views (either for or against) in a constructive manner. All views matter and can be safely aired. Once we have agreed, however, even if the decision was not someone's original point of departure and they had to compromise, all move on from that point. Engagement may not always be easy but the platform for engagement and processes we agreed upfront has enabled us to avoid dissenting voices. We also have very good governance. We have a council, board, exco and sub-committees, all of whom operate within good governance principles.
Our charter is driven not only by government but the private sector is equally committed to being part of it and continues to funds the council significantly.
What is the idea behind a sector charter as opposed to the general amended BEE scorecard, and specifically, the property sector charter?
Our sector is unique and needs to be managed with the understanding of those factors in mind. For example, we have a unique element in our property sector code that focuses on developing under-resourced areas. There are people who have to drive four hours to draw R50, for example, because there are no places with banking ATMs or infrastructure to access such facilities where they live. So this is one of the unique drivers for us in the property sector – developing under-resourced areas – and here we identify under-resourced areas via research we share with the financial sector.
Who currently owns the majority of property in SA and how would the PSCC like to see this change?
The PSCC commits to strive for transformed property relations in South Africa and to promote a vibrant and growing property sector that reflects the South African nation as a whole, while also contributing towards development and the establishment of an equitable society.
Our latest research shows that the property sector is valued at R5.8 trillion – made up of four industries namely: Commercial, Residential, Public Sector and Zoned Land, with a further R520 billion's worth of land officially zoned for commercial and residential development.
Commercial Property carries a value of around R1.3 trillion with almost R790 billion held by corporates, R300 billion held by Real Estate Investment Trusts (REITs), R130 billion by unlisted funds, and R50 billion by life and pension funds.
Of this, retail property has the highest value at R534 billion followed by office properties at R357 billion and industrial properties at R281 billion. Hotels and other property accounted for R94 billion in value.
Formal residential property still accounts for nearly three-quarters of property owned in South Africa, and grew from an estimated R3.0 trillion at the end of 2010 to R3.9 trillion in 2015.
Public sector contributes a total of R237 billion, of which around R102 billion is estimated to be in the hands of the Department of Public Works, R66 billion held by SA's 19 largest state-owned enterprises, and R69 billion owned by metros and selected local municipalities.
How does this scorecard apply to government and state-owned property?
Public Works is the custodian of government offices, hospitals, courts, parliament and so on. It either owns or leases properties. Government must become a catalyst of transformation. For example, the Department of Public Works previously applied an Empowerment Policy that dictated the tenure of the lease the landlord would get, depending on their Ownership. This policy has been reviewed and more requirements beyond ownership have been added as part of the criteria. The policy had some successes and stimulated the sector to an extent that the sector started seeing a number of black companies growing to the point of listing on the stock exchange.
The property sector is a complicated industry. How does this scorecard make allowance for the many kinds of different businesses in the industry?
We have a complex structure table in the charter which defines all the segments, including internally and externally managed entities, estate agents, valuators and asset managers. Within this complex structure we have defined how each business interacts with the scorecard.
Which element in the new property scorecard do you think will make the most difference to transformation in this industry?
Ownership is very big, and has increased from 17% to 26%, providing even more encouragement. Another element that has grown is enterprise and supplier development, which in our case accounts for 39 out of 117 points. Both aim to provide an opportunity to create transformation and stimulate both small and medium sized entities.
The ownership element introduces a new sub-element – "financial support", for at least 51% black owned entities with a BEE level 1-3. Please tell us more about this. How does it work and what is its intention?
There is now a financial support target of 1% on developments that were not part of the original asset. So if I have 10 assets at the end of this financial year, and then next year I have 11, I get the 1% support on the 11th asset. This could be a new building or huge renovation, but it needs to be capital expenditure (as opposed to operational expenditure). The intention is to support black enterprises coming into the industry – large enterprises are supporting smaller as they partner with them under ownership.
Estate agents, property brokers and valuators have variations in their scorecard when it comes to management control and employment equity. What it the reasoning around this?
They operate differently. If you take estate agents, they differ with regard to tiers of management, for example. They do not have senior, middle and junior management, but tend to work with much leaner structures, so they are a special case. And of the 38 000 South African estate agents, only 10% are black. Even though there are no financial barriers to entering the estate agency space (as opposed to getting into commercial property, where you need equity), PDIs (previously disadvantaged individuals) have found it is difficult to penetrate. So for estate agents, we do not use demographic targets (as provided by Employment Equity Commission). Their main focus should only be on attracting more PDIs in the Real Estate industry.
The scorecard contains an additional element – economic development, which refers to driving development in under-resourced areas. What sort of investments are you hoping to see here?
We're trying to drive development in rural areas, with the partnership between government and private sector. This is more about retail and office development. We're trying to persuade developers not to only invest in areas such as Sandton, but also to look at areas they don't even know exist – areas where there is no infrastructure and where development is desperately needed.
What do you hope to achieve with regard to transformation for black women through this scorecard?
There is a line item for black women in every single element, including ownership, management control, employment equity, skills development, preferential procurement, enterprise development and socio-economic development. This is to get more women into the industry. This has created enormous awareness. People are talking about and becoming concerned with the need to get women into the market. The sector is becoming more aware that females are missing. In the past, the concern was just around BEE; now there is much more consciousness around black females.
Property sector entities will now be required to submit their BEE report annually to the PSCC. What trends will you be looking for and will you be giving these entities any feedback or direction?
We're looking at the state of transformation of the property sector, and we need to measure our performance against the sector code targets that we set for ourselves under all the elements. We scrutinise entities individually and by segment to see whether they are achieving their targets, and if they're not, find out what interventions or programmes we can put in place to close the gap between targets and actual achieved score.
Do you believe the PSCC goes far enough to achieve inclusive growth? If not, how do you see the property sector moving towards inclusive growth outside of the PSCC?
We must ensure PDIs play in the mainstream economy, as opposed in the periphery of the economy, and we go all out to create a conducive environment for that. Companies must make sure this happens. Our transformation targets are focused on getting people to participate at various levels of management, in other words, we're creating inclusive participation, which is vital. For the country to grow at the ideal level of 6%–we have to get everyone involved. Current SA census indicates that there are 91% Blacks (Africans, Coloureds and Indians) so it will be very difficult to make our economy grow if they majority continue to be excluded.
What advice can you offer the property sector in terms of growth in the current economic climate?
It is imperative that our economy transforms. In real terms around 40% of our population is unemployed (considering the reported 27.7% plus the structurally unemployed and those that have given up looking for work), the majority of which is youth. We have to turn our economy and unemployment around and get people into the economic fold. What kind of future are we leaving to our youth? This country needs real leaders who put the basics in place to grow our economy. The current leadership issues and corruption are among our biggest challenges to growing the economy. Our country doesn't belong to a few; it belongs to us all and we all have to make it work. The property sector needs to work together with all the other sectors to ensure that our country and its citizen have a future. We all have to work together to make sure our country works.
Tell us a little bit about yourself? What are you passionate about and how do you incorporate this passion into your work commitments?
I am passionate about really making a difference.
I learnt recently that one of our learners has just become the first black woman developer at one of SA's listed property entities. It is so internally, deeply gratifying to hear this kind of news. It means we're making a difference, and it keeps me energised, convinced, committed and determined. I can wake up when the sun is not shining and such progress keeps me going. Nothing can stop me from getting up and doing it over and over again, with a rejuvenated spirit.
We recently had a careers week, and this is exactly the kind of outcome we hope for in every case – to make a real difference in the lives of learners.
To discuss your BEE certification requirements according to the amended codes of good practice, or specifically related to the Construction or Property industries, please contact Jenni Lawrence.