Resilient businesses are the disrupters. They cultivate creative workforces, automation, innovation, mobility and an agile technology environment.
Have you ever made a list of your products or services that might get substituted by a virtual app? Even if you're not thinking about this there is a good chance that your competition is… or there could be a totally new player in the market working on a virtual app that will disrupt your business.
For twenty years the world has experienced disruption as never before. EBay was the cause for the closure of many pawn shops. Uber is now the world's largest taxi company and owns no vehicles; iTunes and Google Playstore are the largest software vendors and don't write any applications; Alibaba is the most valuable retailer and has no inventory, and Airbnb is the world's largest accommodation provider and owns no real estate. In 2015 Forbes Magazine stated that 52% of Fortune 500 companies had disappeared since 2000. Why? Digital disruption.
The choice is clear - either you disrupt or you are disrupted.
This is not as daunting as it might sound. Business leaders can learn to identify weak signals from customers and the contextual environment, and they should certainly know the emerging issues and trends in - and around - their industries. Most importantly, businesses need to learn how to synthesise weak signals, seemingly unrelated trends, and emerging issues, instead of treating them separately because that's what made sense in the past.
The tectonic plates of society
According to futurist Cecily Sommers there are four structural forces that create permanent change in society: resources, technology, demographics, and governance. These are the 'tectonic plates' of society and when they shift, a trend is the result.
The futurist Daniel Burrus describes eight current hard trends in technology which businesses can embrace to create disruption. He also gives us three technology accelerators that change the way services are delivered and new products are innovated and brought to market.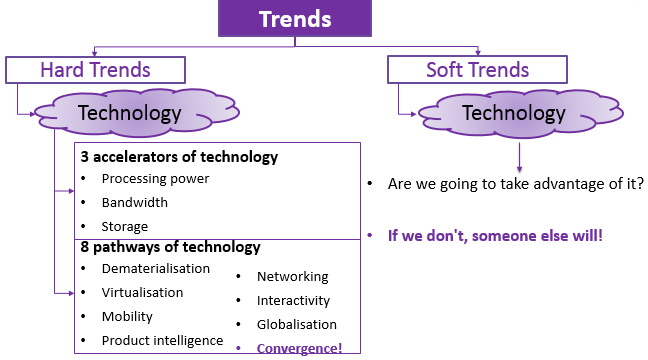 The way you respond to these trends determines whether you disrupt or get disrupted - you determine and create soft trends.
In the past two decades we have watched as the tangible atoms of certain products were physically taken away and transformed into virtual products. There is a whole generation that has never used a traditional torch. The same goes for physical alarm clocks, maps, watches, and literally hundreds of other products virtualised and converged, in the form of an app, into the smart phone device. The synthetisation of these trends of dematerialisation, virtualisation, mobility, and the other pathways of technology (see image) - particularly convergence - will continue to disrupt.
We understand that many existing businesses and their traditional IT departments are trapped in a backlog of business requests for system changes and new systems. Whilst the market demands rapid introduction of new products to satisfy an increasingly impatient customer, traditional development teams are stuck in the maintenance of operational, legacy systems. But the longer innovation is pushed down the priority list in favour of legacy systems, the more likely it is that the business will be disrupted.
Move at the speed of change
The business landscape has rapidly moved to digital operations. To be successful your business needs not just to be resilient, but also to embrace a resilient culture. The technology that supports business operations should be agile enough to embrace the continuous changing market landscape and enable business to move at the speed of change.
Recent developments such as the introduction of low-code rapid development platforms, which reduce development time by up to 75% and accelerate time-to-market by a factor of three, are useful now. These platforms already incorporate key requirements and functionality such as security and cross platform deployment. They empower development teams, like the one at Grant Thornton, to focus on delivering the required value and wishes of clients through continuous interaction, reduced development time and cost, and fast delivery.
Grant Thornton's app development team works together with our business strategy team, enabling us to focus on futures research to identify emerging issues and trends in your industry. We have the depth and reach to synthesise customer signals, seemingly unrelated trends, and emerging issues to identify innovative service delivery and new products for the 21st century's client or customer.