Welcome to the 1st edition of e-clientline
We are delighted to present the first edition of e-clientline. As business people in South Africa we are not only faced with a slew of daunting regulatory requirements, but the demands on our time make it difficult to keep up with the constant changes. We have therefore prepared this newsletter to help keep you updated by highlighting legislative, tax and other issues that may affect your business.
Sincerely
Grant Thornton South Africa
Firms 'will be fined' over lax cyber security
The new Protection of Personal Information (POPI) Act is going to force organisations to change their attitudes towards IT security. South Africans are set to become more hostile towards organisations that do not treat personal data principles with respect.
Are audit fees tax deductible?
The Supreme Court of Appeals findings in the matter relating to the tax deductibility of audit fees between CSARS v MTN Holdings (Pty) Ltd (MTN) has highlighted the care companies must take in analysing expenses.
IFRS News – A shift in the top line
The latest edition of IFRS News looks at the new revenue recognition requirements of IFRS 15 Revenue from Contracts with Customers and explores the benefits and challenges that adopting it will bring.
SA companies need not fear EU auditing reforms
South African companies have little to fear from the accounting and auditing reforms announced by the European Union in April 2014. The new directive requires that organisations change their audit firm at least every ten years to counter concerns that long-standing relationships impact audit impartiality. Other important changes are intended to provide greater transparency to shareholders while also providing a separation of roles between the audit function and advisory services.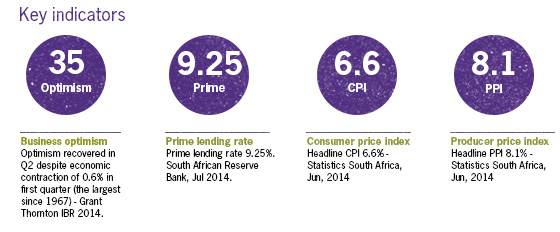 Time is running out to use STC credits
1 April 2014 marked the two-year anniversary of the new Dividend Withholding Tax (DWT) regime being implemented. That means that companies now only have one more year to use their STC credits before they are lost forever, but this may require some careful planning to be done immediately.
Understatement penalties in hindsight
Some 20 months after the introduction of Understatement Penalties, it is worth taking stock of where taxpayers find themselves following its introduction, and highlighting some of the challenges they are experiencing.
Unwitting non-compliance with the Companies Act
Two areas that have recently been exposed as commercial risk areas have been:
inter-company loans and suretyships without strict compliance with section 45 and the requirements of a special resolution of shareholders and the solvency & liquidity test having been applied by the board
the payment of remuneration of directors in the absence of a special resolution in compliance with section 66.
To avoid unnecessary risk please audit your procedures and satisfy yourself that you are not unwittingly falling foul of the peremptory provisions of the Companies Act.
Positive public sector reform following global financial crisis
The recent global financial crisis has resulted in a number of positives in the public sector globally, including a greater focus on risk management, increased recognition of the need for transparency and an ongoing focus on improving service delivery.
These are among the findings of a new international Grant Thornton report, "Public financial management reform in a period of global adjustment". The report shows that public sector entities around the world are grappling with very similar issues to those facing the South African public sector.