We are thrilled to announce that Grant Thornton South Africa has won the Audit/Accounting Firm of the Year award for 2014. This was presented at the inaugural South African Professional Services Awards (SAPSA) ceremony last week. The awards focused on providing recognition to professional firms and persons for their best practices and exceptional work within their respective industries.
In addition to our award as the Audit/Accounting firm of 2014, we were also nominated as finalists in four additional categories.
We've had a celebratory year of note. Also announced during October, Grant Thornton International was named global 'Employer of the Year' by the International Accounting Bulletin.
Sincerely,
Grant Thornton South Africa
BEE
The Broad-Based Codes of Good Practice were launched in 2007 and provided a framework for measurement of Broad-Based Black Economic Empowerment (B-BBEE).
On 11 October 2013 an amendment to the codes was published, ushering in a new phase of B-BBEE measurement, and changing the face of transformation. These come into force from 1 May 2015.
Grant Thornton Verification Services have prepared a guide to help you understand the proposed changes and differences between the current QSE scorecard and the proposed amendments, which were published on 10th October this year.

Contact Jenni Lawrence, Managing Director of Grant Thornton Verification Services, for assistance.
Transfer pricing – changes to secondary adjustments
The proposed amendment
The draft Taxation Laws Amendment Bill 2014 proposes a revision of transfer pricing compliance in the form of a deemed dividend, from 1 January 2015. It proposes that in future, the Section 31 secondary adjustment be deemed a dividend in specie, to be paid by the South African taxpayer to its foreign connected person.
he Medium Term Budget Policy Statement
The Medium Term Budget Policy Statement (MTBPS) was delivered on 22 October 2014 by the new Minister of Finance, Minister Nhlanhla Nene.
Eugene du Plessis, partner and head of tax, Grant Thornton Johannesburg comments on the Statement and its implications.
New tax returns for trusts
The SARS Compliance Programme for 2012-2017 stated SARS' intention to focus on 7 key areas identified as posing a specific risk to the work of SARS. One of these key areas was High Net-Worth Individuals (HNWIs) and the use of trusts to shield assets from tax liability.
It came as no surprise therefore when on Friday, 26 September 2014, SARS announced the introduction of a new format tax return for trust taxpayers (ITR12T).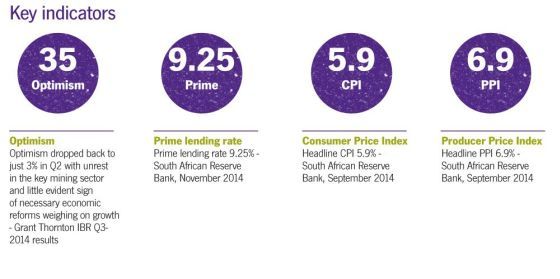 FRS – Example Consolidated Financial Statements 2014
The preparation of financial statements in accordance with International Financial Reporting Standards (IFRS) is challenging. Each year new Standards and Amendments are published by the International Accounting Standards Board (IASB).
'Example Consolidated Financial Statements 2014′ is based on the activities and results of Illustrative Corporation and subsidiaries (the Group) – a fictional consulting, service and retail entity that has been preparing IFRS financial statements for several years.
Data hoarding puts an increasing number of South African businesses on the wrong side of the law
As yet another barrage of data leakages makes news headlines – businesses need to consider whether these security incidents are as a result of data hoarding issues or due to operational oversight, especially as the new POPI legislation and its strict guidelines loom.
Municipal Public Accounts Committees hold key to clean audit reports
Intervention must happen to solve the ingrained challenges faced by Municipal Public Accounts Committees, also known as MPACs, throughout the country as they strive to achieve unqualified, or "clean" audits. These committees were created to be powerful institutions of accountability and oversight in public spending and should hold the key to better financial management.