Fourth quarter 2015 research from Grant Thornton's International Business Report (IBR) reveals that South African businesses are largely pessimistic about the outlook of the country's economy over the coming 12 months.
While SA business executives are 16% more optimistic than they were during Q3's IBR survey, business optimism for the fourth quarter of 2015 to December stands at negative 24% (Q4 2015: -24% vs Q3 2015: -40%).
Grant Thornton South Africa's national chairman, Deepak Nagar, says: "A multitude of macro and micro economic factors are directly affecting business executives' sentiment about the nation. These issues range from geopolitical instability and the economic volatility of China, to South Africa's own labour concerns, energy issues, the disastrous collapse of the Rand and a dramatic decline in confidence in the leadership of the country as a whole."
The Q4 2015 IBR from Grant Thornton provides tracker insights from around the world on a quarterly basis. These findings are from the IBR's fourth quarter tracker data for 2015 to end December, revealing findings from business executive interviews held during November and December 2015. The survey presents perceptions into the views and expectations of over 10 000 C-Suite executives across more than 36 economies (2500 interviews per quarter). Regional and national perceptions are also researched every quarter for South Africa, from 400 SA privately held business executives annually (100 executive interviews per quarter) regarding crime, service delivery and political climate.
How optimistic are you for the outlook of your country's economy over the next 12 months?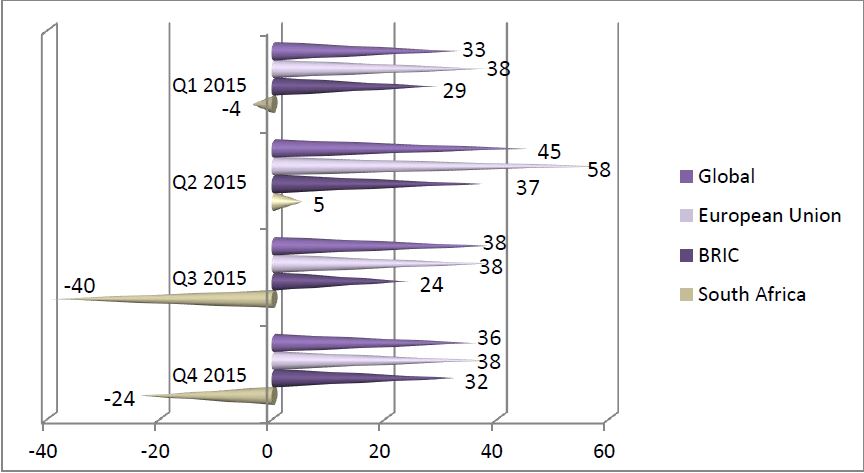 Source: Grant Thornton International Business Report Q4 2015
Globally, going into 2016, EU businesses remain surprisingly resilient in their outlook despite risks posed by the migrant crisis, terrorism and a possible referendum on the UK's European Union membership. Yet 2016 also brings fresh questions as US firms report a dent to their confidence heading into the New Year amid concerns over export markets and the strength of the Dollar.
Business optimism globally heading into 2016 stands at 36% - only slightly down from Q3 2015 and just above the 35% recorded a year ago. For the first time since the financial crisis, it is the EU which provides the bedrock of stability. For the fourth quarter of 2015, 38% of EU businesses are optimistic about their economy over the next 12 months, exactly the same as in Q3 and Q1. Meanwhile the US has seen optimism fall from 74% to 50% in Q4, the biggest fall of any of the 36 countries surveyed during the quarter. The 2016 year also looks much brighter for businesses in Asia Pacific and Latin America as both report big quarterly increases in optimism.
SA business expansion constrained
A disturbing 59% of South African business executives stated in the Q4 IBR survey that rising energy costs is the greatest constraint to growth of their organisations, while 55% expressed concern regarding economic uncertainty and 51% stated exchange rate fluctuations as a key constraint. Overregulation and red-tape is the nation's fourth greatest constraint to business expansion with 45% of SA businesses stating this factor while a lack of a skilled workforce is constraining 22% of business executives' growth plans.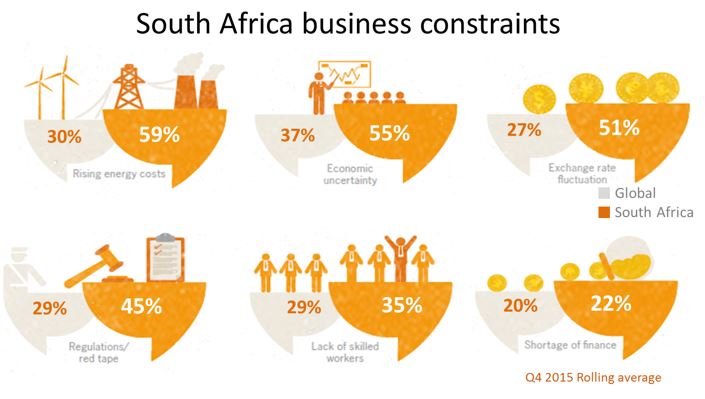 Poor service delivery from government continues to negatively impact SA businesses
When business executives were asked if their companies had been negatively impacted by poor government service delivery, a massive 73% of respondents said yes.
Ninety percent (90%) of South Africans stated utilities (water, electricity) as the key government service delivery issue affecting their businesses (Q4 2014: 80%). Not surprisingly, the second biggest issue for organisations in the Q4 IBR survey was strikes by government employees with 71% of respondents lamenting this issue.
"The municipal workers and other major unions embarked on large scale strikes during the last quarter of 2015," says Nagar. "There is absolutely no doubt that these protests affected normal business functions last year."
The two issues of roads (potholes and non-functioning traffic lights) and billing concerns seem to be declining as government service delivery factors negatively affecting businesses. During the fourth quarter of 2015, 55% of executives stated roads as a concern, down from 62% in the 2014 year. Only 45% of business executives confirmed that billing issues were affecting their businesses, also down from 58% in Q4 of 2014.
"This year South Africans will vote in the 2016 local municipal elections," says Nagar. "I was hoping to see some improvements in current service delivery performance towards the end of last year to help bolster confidence ahead of these elections, but this just hasn't materialised."
Impact of crime on businesses - first improvement recorded since 2012
Grant Thornton South Africa has been tracking the direct impact which crime has on businesses, since 2007. The IBR survey asks business executives if, in the last 12 months, they had directly been affected, or whether their staff or family of staff had been affected by the threat to personal security such as house breaking, hijacking, violent crime, road rage. For the fourth quarter of 2015, 59% stated yes.
This figure is slightly down from 63.5% recorded in Q4 2014, but the decline is encouraging, because it is the first improvement recorded in the IBR survey since Q4 2012 when just 53% affirmed that they had been affected by crime.
"I say this time and time again – the crime statistic is completely unacceptably high. Even the 59% recorded for this quarter equates to nearly two thirds of all respondents surveyed who are affected by crime," says Nagar. "So very much needs to be done to change this terrible scourge in South Africa. I can only hope that this marginal decline is the first positive sign of many more improvements in the months to come."
The Western Cape region boasts the lowest crime statistic for the fourth quarter at 54% with KZN and Eastern Cape regions equally featured with the highest crime figures this quarter.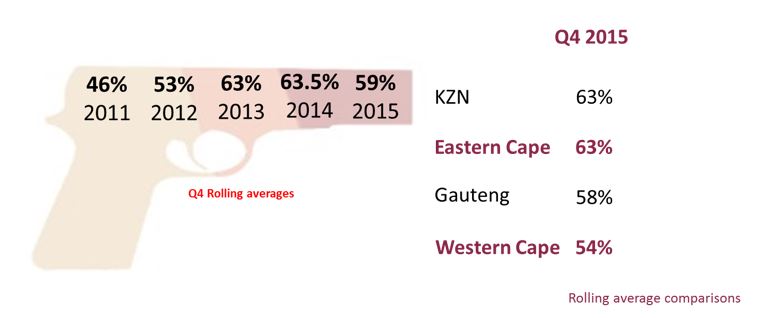 Globally, most regions resolutely confident going into 2016 – SA, not so much!
Grant Thornton's research reveals that most regions remain resolutely confident at the start of 2016, as fears over the impact of a Chinese slowdown are tempered. In China itself, business optimism increased from 26% to 36% in Q4, and economies like Indonesia (36% to 56%) have followed suit. Even economies like Malaysia (-28% to -14%) and Thailand (-8% to 4%), which have taken bigger hits to confidence as fears over the impact of China's slowdown grew, have eased. Overall business optimism in APAC has increased from 20% to 31% in Q4.
Optimism in Latin America (11% to 18% in Q4) is also at its highest level in a year, driven largely by a remarkable turnaround in Argentina where the change of leadership has seen optimism rocket to 68% - the highest since 2011. Elsewhere, expectations for increased revenue in 2016 have shot up in Brazil (24% to 49% in Q4), ahead of the Olympic Games being held in Rio de Janeiro.
"Sadly, South Africa is very stuck in a time of uncertainty, a struggling economy with a pessimistic outlook for the year ahead. Our best option is to seek out emerging pockets of opportunity where we can, build strong trade links and hopefully the outlook for the year ahead will brighten soon, too," Nagar concludes.
Notes to editors
About IBR
The Grant Thornton International Business Report (IBR) provides insight into the views and expectations of over 10,000 businesses per year across more than 36 economies. It is the leading mid-market survey in the world and draws upon 22 years of trend data for most European participants and 11 years for many non-European economies.
Data collection
Questionnaires are translated into local languages with each participating country having the option to ask a small number of country specific questions in addition to the core questionnaire. Fieldwork is undertaken on a quarterly basis, primarily by telephone. IBR is a survey of both listed and privately held businesses. The data for this quarter's release are drawn from interviews with more than 2500 chief executive officers, managing directors, chairmen or other senior executives per quarter (over 10 000 per annum) from all industry sectors conducted in November / December 2015.
SA sample
A total of 100 business executives were interviewed in South Africa for the Q4 2015 survey findings. This equates to 400 survey responses per year.
About Grant Thornton South Africa
Grant Thornton South Africa is a member firm of Grant Thornton International Ltd (GTIL). Grant Thornton South Africa was founded in 1920. We are leaders in our chosen market, providing assurance, tax and specialist business advice to dynamic organisations – listed companies, large privately held businesses and private equity backed organisations.
We employ 1100 people in South Africa with 100 partners and directors. Grant Thornton has a national presence with offices in Bloemfontein, Cape Town, Durban, George, Johannesburg, Nelspruit, Polokwane, Port Elizabeth, Pretoria, Rustenburg and Somerset West. In Africa we operate across 23 member firms in Algeria, Botswana, Congo, Côte d'Ivoire, Egypt, Ethiopia, Gabon, Guinea, Kenya, Libya, Mauritius, Morocco, Mozambique, Namibia, Nigeria, Senegal, Tanzania, Togo, Tunisia, Uganda, Zambia and Zimbabwe and are ideally positioned to facilitate clients' expansion plans in these countries.
About Grant Thornton International Ltd
Grant Thornton is one of the world's leading organisations of independent assurance, tax and advisory firms. These firms help dynamic organisations unlock their potential for growth by providing meaningful, forward looking advice. Proactive teams, led by approachable partners in these firms, use insights, experience and instinct to understand complex issues for privately owned, publicly listed and public sector clients and help them to find solutions.
More than 40,000 Grant Thornton people, across over 130 countries, are focused on making a difference to clients, colleagues and the communities in which we live and work.
"Grant Thornton" refers to the brand under which the Grant Thornton member firms provide assurance, tax and advisory services to their clients and/or refers to one or more member firms, as the context requires. Grant Thornton International Ltd (GTIL) and the member firms are not a worldwide partnership. GTIL and each member firm is a separate legal entity. Services are delivered by the member firms. GTIL and its member firms are not agents of, and do not obligate, one another and are not liable for one another's acts or omissions.