As the rest of the world records new quarterly highs in business optimism, combined with improvements in revenue and profitability expectations, South Africa's political turbulence has knocked business executives into a pessimistic outlook for the nation's economy over the next 12 months.
Grant Thornton's International Business Report (IBR) for the second quarter of 2017 reveals that SA's business executives views are 28% pessimistic (-28%) in terms of their perceptions of their outlook for the country's economy in the year ahead. This quarter's results represent a -47pp decline in executives' perceptions in just three months, since the first quarter of 2017 (Q1 2017: +19%).
Grant Thornton calculates business optimism as a balance statistic. This is produced by calculating the percentage of respondents who report a positive outlook, less the percentage who report a negative outlook for the year ahead. In the case of Q2 2017 the outlook has slumped back into a negative outlook for the first time in a year with net 28% more negative responses expressed than positive. While South African business sentiment was not highly positive over the last year, it did manage to remain in net positive sentiment territory. In contrast, Q2 2017 is a major reversal.
"At the end of March and just as the first quarter of 2017 came to an end, South Africa experienced a number of political upsets, such as the President's announcement to change the leadership at 10 important Government institutions including the sacking of Pravin Gordhan as minister of finance. This was followed by subsequent downgrades of the nation's sovereign credit rating by key ratings agencies," says Gillian Saunders, Head: Advisory Services at Grant Thornton South Africa. "The collapse in business optimism recorded in our IBR for Q2 is a very clear outcome of these dramatic changes."
Saunders presented the findings of the second quarter IBR for 2017 to media this morning in Johannesburg, at an interactive briefing session, where she highlighted insights from around the world and in South Africa.
How optimistic are you for the outlook of your country's economy over the next 12 months?
The International Business Report (IBR) from Grant Thornton provides tracker insights from around the world on a quarterly basis. These findings are from the IBR's second quarter tracker data for 2017, revealing views from business executive interviews held between April and May 2017. The survey presents perceptions into the views and expectations of over 9600 C-Suite executives in privately-held and listed businesses, across more than 36 economies (more than 2400 interviews per quarter). Regional and national perceptions are also researched every quarter for South Africa, from 400 SA privately held business executives annually (100 executive interviews per quarter) regarding the business environment, and other issues such as crime, service delivery and the political climate.
Conversely global business optimism hit at an all-time quarterly high of +51% in the second quarter of this year. This represents five consecutive quarters of increases in optimism. Healthy confidence is evident in the US, where optimism hit an all-time high of 81%; in the EU, which has jumped to a two year high (50%); and in China, where optimism remained stable at 48% - a near three year high.
Saunders says that the previous quarter's results for South African executives - for the first quarter of 2017, revealed a strong uptick in business confidence, with +19% optimism recorded to end March 2017. The 19% optimism recorded for Q1 followed naturally on from the positive trend of the fourth quarter's net 6% balance statistic at the end of 2016.
"As a nation, we started the year off quite settled and stable, we might even say there was nascent positivity, and we were somewhat aligned to global sentiment. We had narrowly escaped the ratings downgrade in December 2016, rumblings that the Minister of Finance might be fired had not materialised. Positivity included the break in the drought, lower inflation, a flat interest rate outlook, ongoing weak rand benefits, the firming of commodity prices and reduced electricity supply constraints. There seemed to be some sort of 'calm' throughout the country," she adds. "Perhaps it was the 'calm before the storm' which subsequently came to an abrupt halt at the end of Q1."
Uncertainty regarding political direction and economic turbulence affects business decisions
Linked to the pessimistic outlook recorded for the second quarter of 2017, the IBR indicates that more than two-thirds (67%) of South African business executives' operations and business decisions were impacted by a turbulent SA economy and uncertainty about the country's future direction in the last six months.
During the first quarter of 2017, this figure was only 58% (i.e. 9pp lower).
"This is just another sign of how the changes which took place in March and April this year have affected South Africa's businesses," says Saunders. "We are recording dramatic changes in sentiment when comparing the first and second quarters of this year. It's very concerning."
When asked to outline the ways in which economic uncertainty affects their business decisions, 37% of total respondents state they were delaying business expansion plans, 32% are putting off investment decisions, while 26% of these executives are considering investing offshore (possibly in a more stable business environment), and 17% are weighing up decisions to sell their business.
"Delaying business decisions, stalling company expansion and considerations to invest offshore will all negatively impact South Africa's GDP growth," says Saunders. "It is truly concerning how political instability and economic turbulence have affected general business operations. Even first quarter positivity was proved to be misplaced when quarterly GDP figures released in June showed a decline of -0.7% in GDP in the first quarter, and South Africa entered a technical recession. The events at the end of the first quarter and subsequently in the second quarter do not bode well for any improvement in economic growth."
Business expansion constrained by economic uncertainty, exchange rate volatility and over-regulation
According to Grant Thornton's IBR data for Q2 2017, the top three constraints to business growth for South African executives are: economic uncertainty (66%); exchange rate fluctuation (50%); and over-regulation / red tape (30%).
"These three constraints which prevent business expansion are a continuous theme throughout this quarter's findings," says Saunders. "Naturally a nation will struggle with exchange rate volatility when political uncertainty is rife and agencies are downgrading the country and its key institutions. But it is concerning to note that too much regulation and red tape is also weighing down on South African businesses' ability to grow."
Globally, the lack of availability of a skilled workforce is recorded as the greatest constraint to expansion by 35% of executives. The second greatest constraint to growth worldwide recorded for the second quarter of this year is the economic uncertainty, with 34% of the executives surveyed worldwide lamenting this issue. Over regulation is the world's third greatest restraint to business growth (IBR Q2 2017 Global: 29%).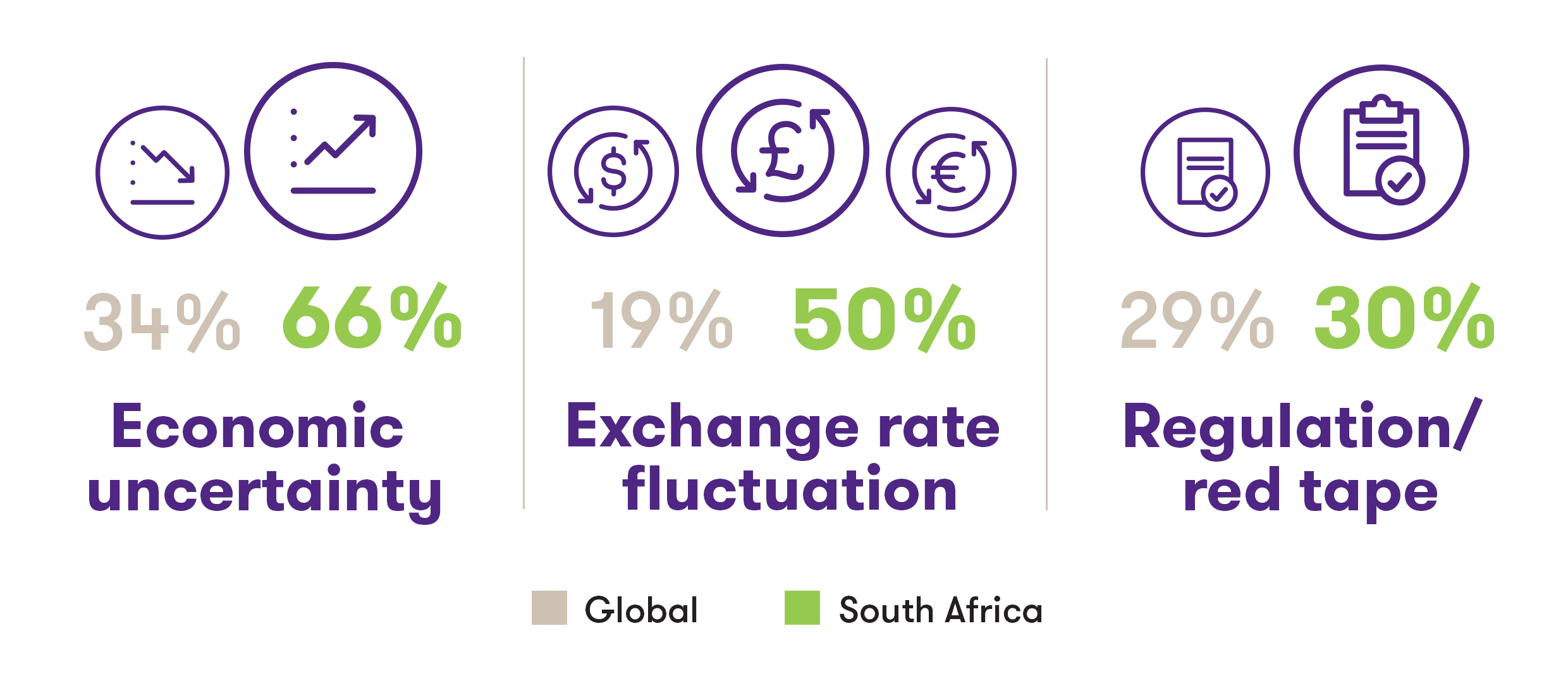 Poor Government service delivery also negatively affects SA business growth
As part of the IBR survey, South African privately held business executives are also asked how their business has been affected by Government service delivery or regulatory requirements in the past six months. Of the executives surveyed 64% state that government service delivery has negatively affected their business while just 12% saw a positive effect from this.
"We are constantly affected by poor service delivery and the recent service delivery protests compound this issue even further," says Saunders. "The delivery of basic needs and infrastructure should be a non-negotiable deliverable in our cities and towns all the time – it's disappointing that delivery of services continues to affect the functionality of a business."
When executives are asked to outline which elements in particular are negatively affecting their business, 62% state increased service costs, 57% cite the cost of red tape and legislative compliance, 56% state disruption to supply of utilities and 44% say that strikes by Government employees are impacting operations.
Of the 12% of business executives who state that their businesses are positively affected by government service delivery, 46% credited their municipalities for improvements to infrastructure, while 16% state that billing issues had been resolved.

"South Africa is in a difficult time right now. We're in desperate need of positivity, hope, direction and stability. Only then can the economy begin to recover and grow once again. If Grant Thornton's IBR trends each quarter are to be noted and carefully observed, we may still be in for many rough quarters ahead before any improvements become a reality across the business environment," Saunders concludes.