Grant Thornton's International Business Report for the fourth quarter of 2016 reveals that two-thirds (65.8%) of South African business executives' operations and business decisions have been impacted by the nation's 'turbulent' economy and uncertainty about its future direction.
When these executives were asked to outline the ways in which economic uncertainty had affected their business decisions, 58% stated they were delaying business expansion plans, while 47.5% were putting off investment decisions. Nearly one-third of these executives (29.8%) were considering investing offshore, possibly in a more stable business environment and 23% were weighing up decisions to sell their business.
"We've been tracking economic uncertainty and its impact on SA business executives for a long time," says Gillian Saunders, head of Advisory Services at Grant Thornton South Africa. "It's concerning that such a huge proportion of our country's corporate world is directly impacted by this instability. Delayed business decisions, stalling company growth and considerations to invest offshore will dampen our GDP growth even more."
The International Business Report (IBR) from Grant Thornton provides tracker insights from around the world on a quarterly basis. These findings are from the IBR's fourth quarter tracker data for 2016, revealing findings from business executive interviews held between September and December 2016. The survey presents perceptions into the views and expectations of over 10 000 C-Suite executives in privately-held and listed businesses, across more than 37 economies (more than 2600 interviews per quarter). Regional and national perceptions are also researched every quarter for South Africa, from 400 SA privately held business executives annually (100 executive interviews per quarter) regarding crime, service delivery and political climate.
Poor Government service delivery also negatively affects SA business growth
As part of the Q4 IBR survey, South African privately held business executives were also asked how their business had been affected by Government service delivery or regulatory requirements in the past six months. Of the executives surveyed 62% stated that government service delivery had negatively affected their business while just 9% had been positively affected by this.
"Service delivery should be fully-functioning across all major city nodes, all the time. It is disappointing when government's delivery of basic needs and infrastructure impacts the functionality of a business," laments Saunders.
When executives were asked to outline which elements in particular were negatively affecting their business, 57% stated increased service costs, 53% stated disruption to supply of utilities, and 49% cited the cost of red tape and legislative compliance.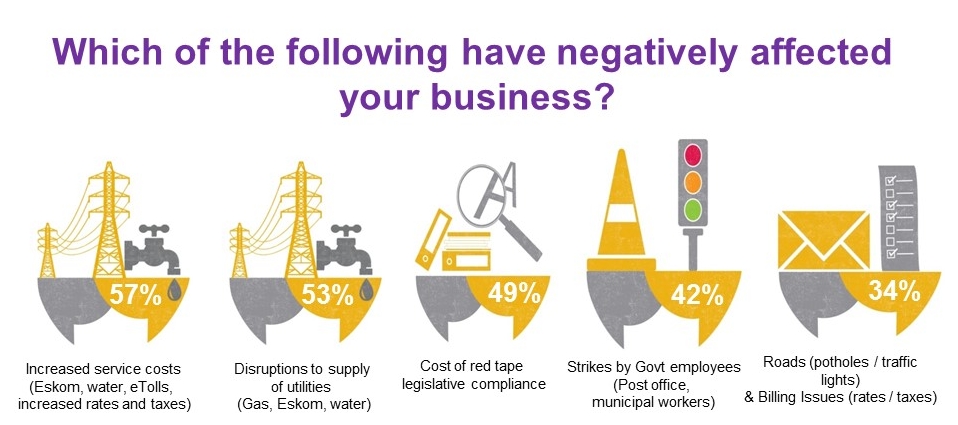 Global business optimism bounces back while SA optimism outlook remains underwhelming
When business leaders around the world were asked how optimistic they were about the outlook for their own country's economy for the coming 12 months, a strong increase was reported internationally for the fourth quarter of 2016, as the world headed into 2017.
Research from the Grant Thornton International Business Report reveals that, globally, business optimism at the end of Q4 2016 stands at net 38%. This is an increase of 5pp from Q3 and the highest level since Q3 2015.
In the US, optimism increased from 43% to 54% - and the trend is repeated around the globe. The world's two other big economic blocs, China (30% to 46%) and the EU (28% to 34%), reported similar jumps.
But South Africa's optimism levels remained stagnant and the outlook for the next 12 months was underwhelming. South African businesses were – at the end of December 2016 – just a net 6% optimistic, which is 4pp down on Q3's 10% optimism recorded at the end of September last year.
How optimistic are you for the outlook of your country's economy over the next 12 months?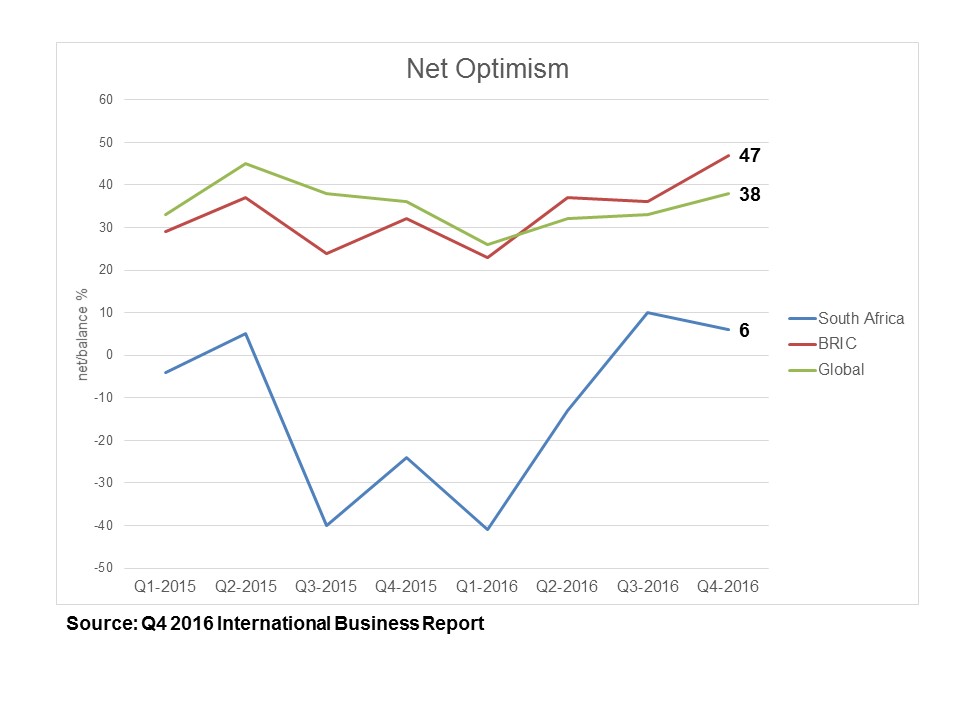 But Saunders adds that compared to SA business executives' extremely pessimistic outlook during Q1 of 2016 when a negative 41% (-41%) was recorded, the +48pp improvement in business optimism since then is certainly promising.
Grant Thornton calculates business optimism as a net balance statistic. This is calculated by taking the percentage of respondents who reported a positive outlook, less the percentage who reported a negative outlook for the year ahead.
"Starting 2017 off with more optimism than last year overall, is a positive sign. South Africa has good economic growth potential in 2017. The massive drought is over for most of the country which will improve South Africa's agriculture returns and global commodity prices are rallying somewhat along with generally improved outlook for global growth. Electricity supply is stabilising and the rand, although stronger, is still at reasonable values. These are just a few improvements we've seen as we start the year. Let's hope the good news keeps coming, that optimism continues to grow as our nation's economy begins to recover," concludes Saunders.