Why public sector financial managers must learn to adapt in the age of austerity
The Public Financial Management (PFM) discipline has to come to terms not just with the lessons of one major financial crisis, but with how governments can live with less over the long term. One lesson stands tall – effective reforms are vital in this age of austerity as tough economic conditions have caused a major drive to focus on reducing government and public expenditure.
According to the Global Financial Management Leaders Survey 2015 by Grant Thornton and the International Consortium on Governmental Financial Management (ICGFM), the impact of the global financial crisis is weakening, while the risk management changes it precipitated are spreading around the world.
This report draws on a survey of 278 PFM leaders from related areas of government and donor organisations, as well as directors from private companies and academia. The survey was executed using in-person interview sessions, a multilingual online survey and a polling mechanism at the ICGFM annual international training conference. Participants represented over 40 countries across Europe, Africa, the Middle East, Asia Pacific and the Americas.
The survey found that the global economy was undoubtedly impacted by the financial crisis. The recovery has been slow but, there have been other events that have occurred in the past six years. It's becoming increasingly difficult to peg any current events specifically back to 2008 and 2009.
Whatever the different causes, they have one widespread, common impact: the ongoing need for austerity. Seventy- one percent of respondents in our survey agree that pressure to develop more efficient and effective PFM practices has led to the reform of budgetary and financial management systems.
South Africa is no exception.
As a limping economy and poor growth force the country ever nearer to a recession, the pressures on the public purse will only increase. Findings, particular to Africa, include: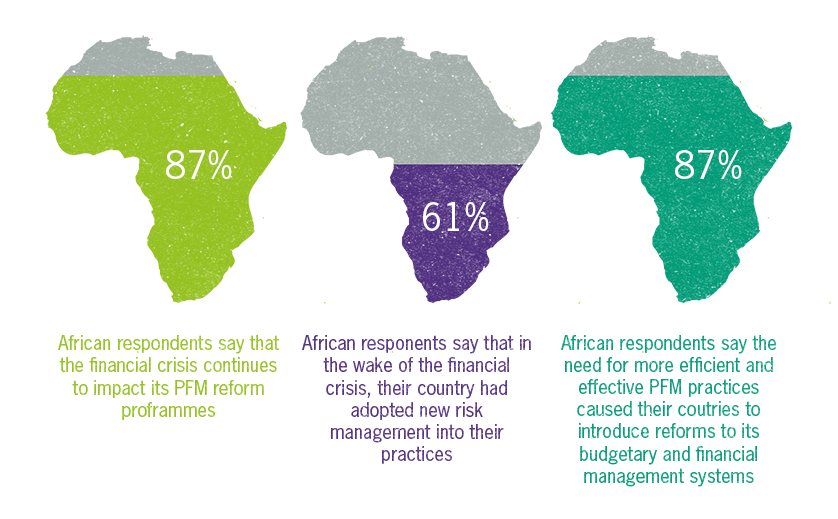 Closer investigation indicates that the picture is more complex. The comments from respondents were more focused on a number of more recent economic problems. Those from emerging market countries, for example, tended to discuss the implications of the ongoing steep drop in commodity prices.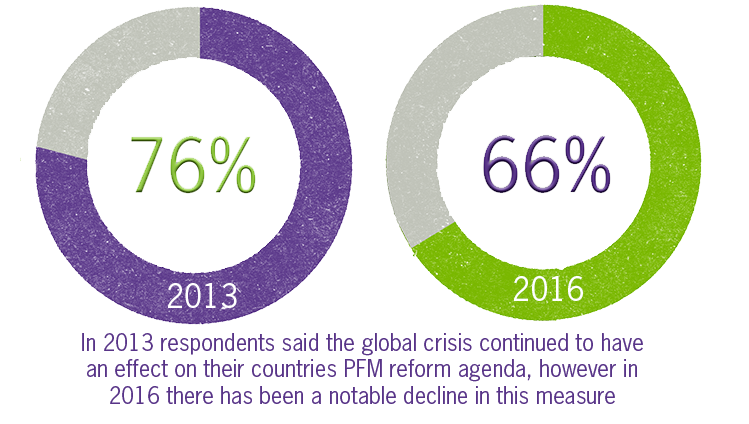 Greek respondents, understandably, brought up the impact of their domestic economic turmoil, at the sharp end of the long running European debt crisis – a problem linked to, but not identical with, the credit issues of 2008.
In other words, PFM is having to respond to a range of specific challenges facing various economies rather than a single set of issues. PFM leaders are also focused on a number of more recent economic problems, such as the Euro crisis and the collapse of commodity prices.
The report states: "The immediate challenge of the global financial crisis has evolved into a broader collection of difficulties. This makes effective understanding of finance by government, better budgeting, and more efficient spending – which is the soul of PFM – all the more important."