The broad based black economic empowerment act was revised in June 2016, and it now requires public companies listed on the JSE to submit a compliance report annually to the BEE Commission.
The report, as defined in "Form B-BBEE 1" will be reviewed by the commission and feedback will be provided to the dti and other various bodies that have been set up to measure BEE and its effectiveness.
From January 2017, all listed entities will need to have a formalised policy on the promotion of gender diversity at board level, as well as having to disclose how they are performing against this policy.
This comes at a time when we see decreased gender diversity at board level in the private sector. The latest Grant Thornton report into women in business shows that women hold only 23% of senior positions in SA, down from 27% last year. More worrying, the survey reveals that 39% of local businesses do not have any women at all in leadership positions.
The report, Women in business: Turning promise into practice is based on the annual Grant Thornton International Business Report (IBR) which surveys 5,520 businesses in 36 economies, with research conducted from July to December 2015 (Q3 and Q4 2015). In South Africa, 200 business executives were surveyed for the 2016 report.
The measurement of black women at board level has changed slightly under the amended codes, in that the old measurement of "adjusted recognition for gender" has been removed and specific targets have been created for representation of women. "Black" under the codes of good practice includes black, coloured and Indian South Africans.
Board participation is split into board members and executive directors, effectively allowing for double counting of those that are active in the company on a daily basis.
The target for black women board members is 25%, as is the target for representation of black women executive directors.
A key difference to consider is that in the old codes, executive directors could potentially be counted again under the category called senior top management, however, in the amended codes, there is no similar recognition.
For example, if a company had a board comprising four members as follows:
- One white male non-executive director;
- Two white male executive directors; and
- One black female executive director, the score would be impacted as follows: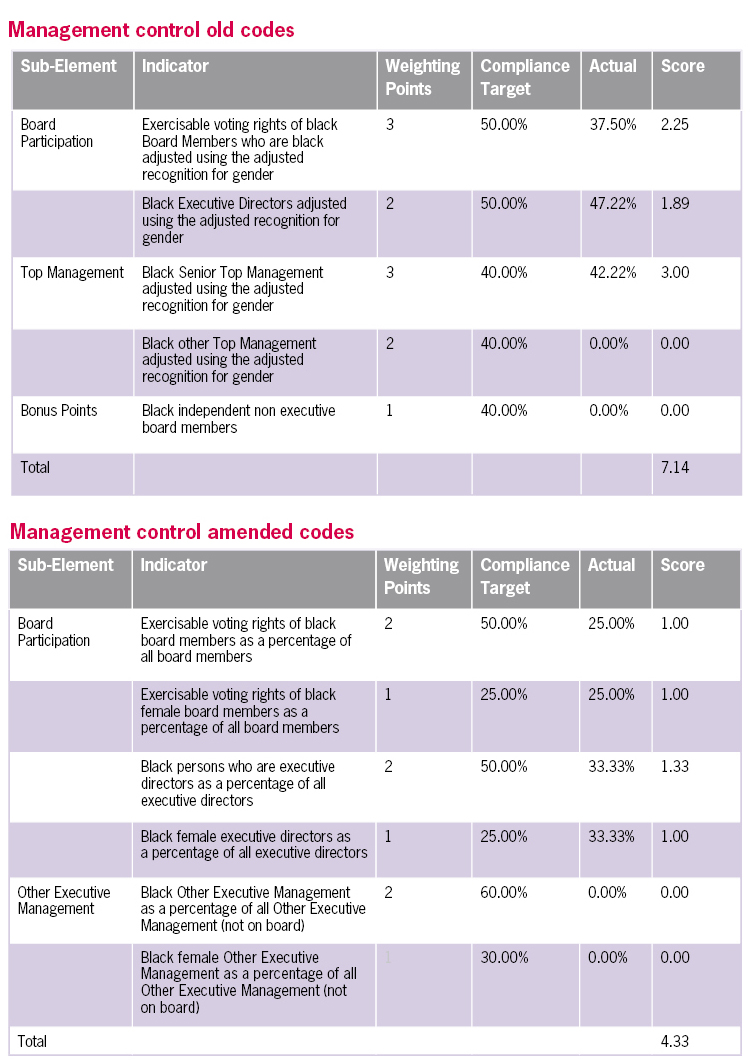 We can see from this example that the changes in the amended codes actually result in a lower score for a company that has better gender diversity.
To discuss your BEE certification requirements according to the new JSE gender policy, or for further information, please contact Jenni Lawrence.
Read the full newsletter