Rising crime, increased energy costs, exchange rate fluctuations, lack of skills, over regulation and economic uncertainty constrains local business
6 May 2015
New Grant Thornton research highlights that South African businesses grow more pessimistic about the future outlook of the nation's economy with local business optimism levels plummeting by 30% since 2013, to reach record lows.
When SA business executives were asked how optimistic they were about the outlook of the country's economy over the next 12 months, Grant Thornton's International Business Report (IBR), reveals a dismal 9% total optimism, compared to the more buoyant 39% recorded by South African businesses in 2013.
Grant Thornton's International Business Report (IBR) provides tracker insights from around the world on a quarterly basis. These findings are from the IBR's first quarter tracker data for 2015, revealing findings from business executives to 31 March 2015. The IBR survey specifically presents perceptions into the views and expectations of over 10000 C-Suite interviews in total per year across 36 economies on an annual basis (2500 interviews per quarter). The Report also highlights regional and national perceptions of privately held businesses regarding crime, service delivery and political climate of 400 South African business owners annually (100 business executives per quarter).
"We seem to be in a post election lull as increased bureaucracy and economic uncertainty fuel the fires of pessimism. Business confidence is in a downward spiral," says Andrew Hannington, CEO of Grant Thornton Johannesburg.
In contrast, global data from the Grant Thornton IBR reveals positive business expectations overall as the eurozone jumped for the first quarter of 2015 from 1% in 2013 to 20% for Q1 2015.
"Many of the economies hardest hit by the financial crisis, such as Ireland and Spain, are increasingly optimistic about their growth prospects although our local picture here in South Africa is downtrodden, with business prospects falling to an all-time low," continues Hannington.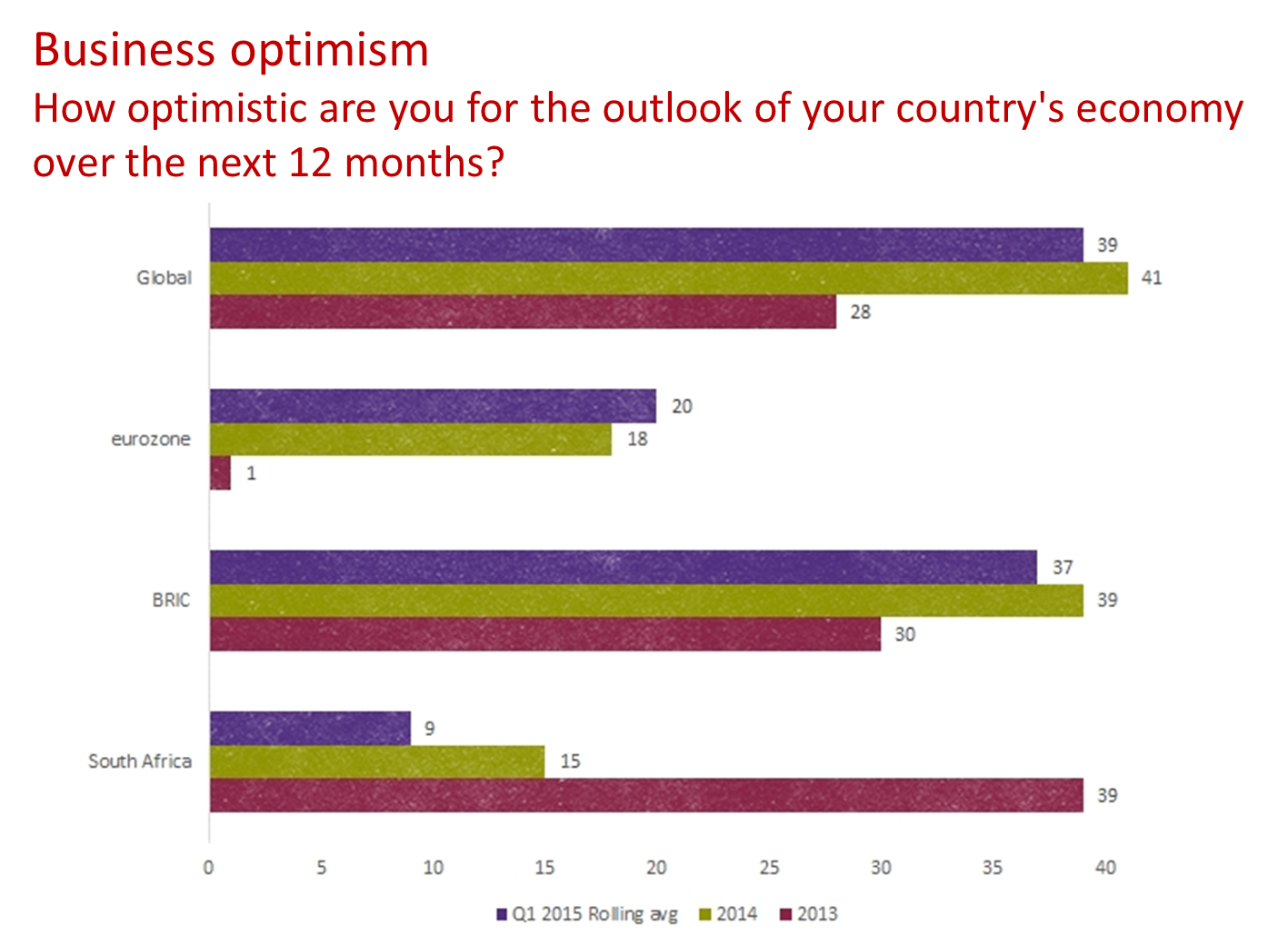 The Q1 IBR data to end March 2015 also highlighted that a torrent of factors are constraining business growth with a massive 55% of South African businesses lamenting rising energy costs, 42% frustrated by exchange rate fluctuations, 39% expressing concern regarding economic uncertainty, 37% struggling with a lack of availability of a skilled workforce, and 36% stating that over-regulation and red tape are restricting business expansion.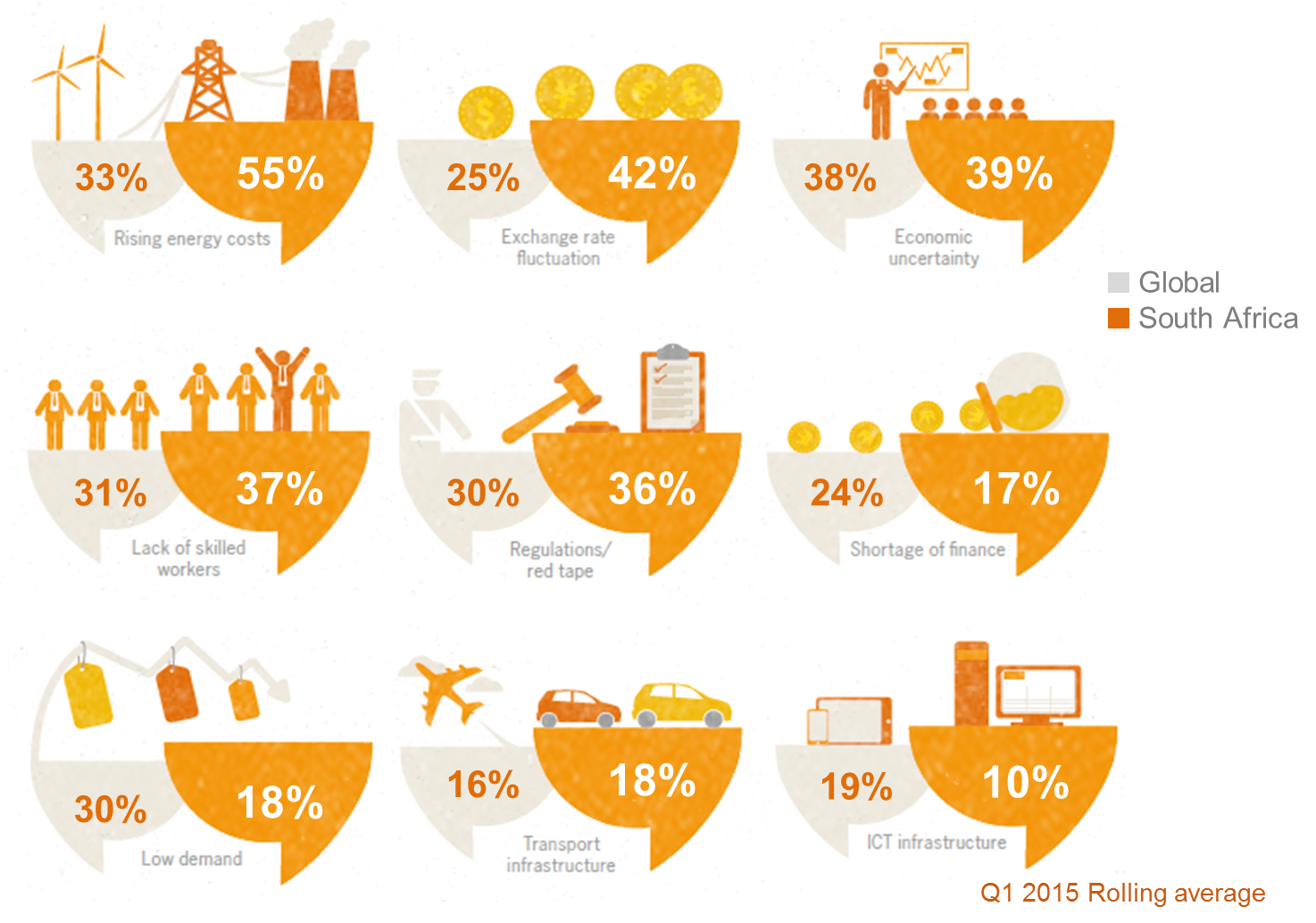 "The fragile state of the nation's energy supply and dramatic increases in electricity costs are major constraints to business growth," says Hannington. "This coupled with economic uncertainty and a volatile exchange rate continues to negatively affect prospective business performance."
Globally, the biggest constraint to business expansion is anxiety regarding economic uncertainty with 38% of businesses worldwide ranking this factor as a core inhibiter (SA – 39%).
But the issue of the lack of availability of a skilled workforce remains very high on the list of factors constraining business growth worldwide with 37% of SA businesses and 31% of privately held organisations globally highlighting this as a major concern.
"The lack of available skills is a massive global concern," continues Hannington. "This constraint highlights that companies, governments and trade associations need to collaborate more to try and find a workable solution to ensure sustained skills development for the future."
Crime a growing distress for SA business
Crime and the direct impact this has on business and on individuals continues to severely affect South Africa, according to this quarter's IBR research.
When SA business owners were asked if, in the last 12 months, they had directly been affected, or whether their staff or family of staff had been affected by the threat to personal security such as house breaking, hijacking, violent crime, road rage, the results were very disturbing with a massive 63.5% stating yes.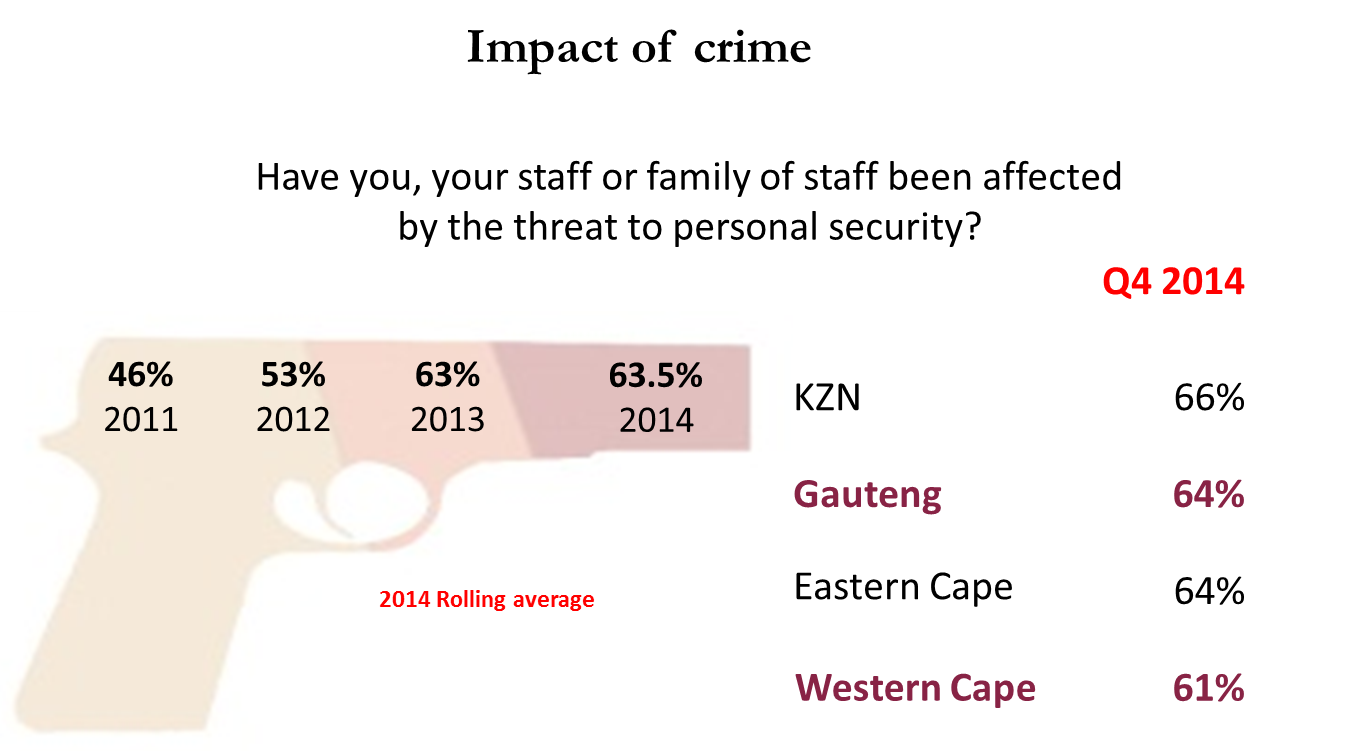 "South Africa's terrible crime statistics are a major inhibitor to foreign investment, never mind local economic stability and business satisfaction," says Hannington. "During 2011, we were so pleased to see this figure drop to its record low of 46%, but the slow increase again to today's levels is devastating."
When South Africans were asked to list the ways in which their businesses were affected by crime, 80% stated that the increased costs for security are a serious financial burden.
Poor Government service delivery negatively impacting SA businesses
First quarter IBR data for 2015 reveals that a startling 68% of all business owners surveyed are affected by poor government service delivery. This has increased from 60% during the first quarter of 2014, from 57% in Q1:2013 and from 53% during Q1:2012.
The greatest service delivery issue for local businesses is that of basic utility services (water and electricity supply). During Q1: 2013, 41% of privately held business owners stated that utilities had negatively affected their businesses. Just two years later, this figure has more than doubled, to 83% for Q1, 2015.
Road infrastructure concerns (such as potholes and traffic light issues) and the negative impact this has on SA business executives has nearly tripled to 61% for the first quarter of 2015 from just 21% during Q1:2013. Fifty four percent (23% in 2013) of businesses flag billing issues a key issue which is negatively impacting businesses.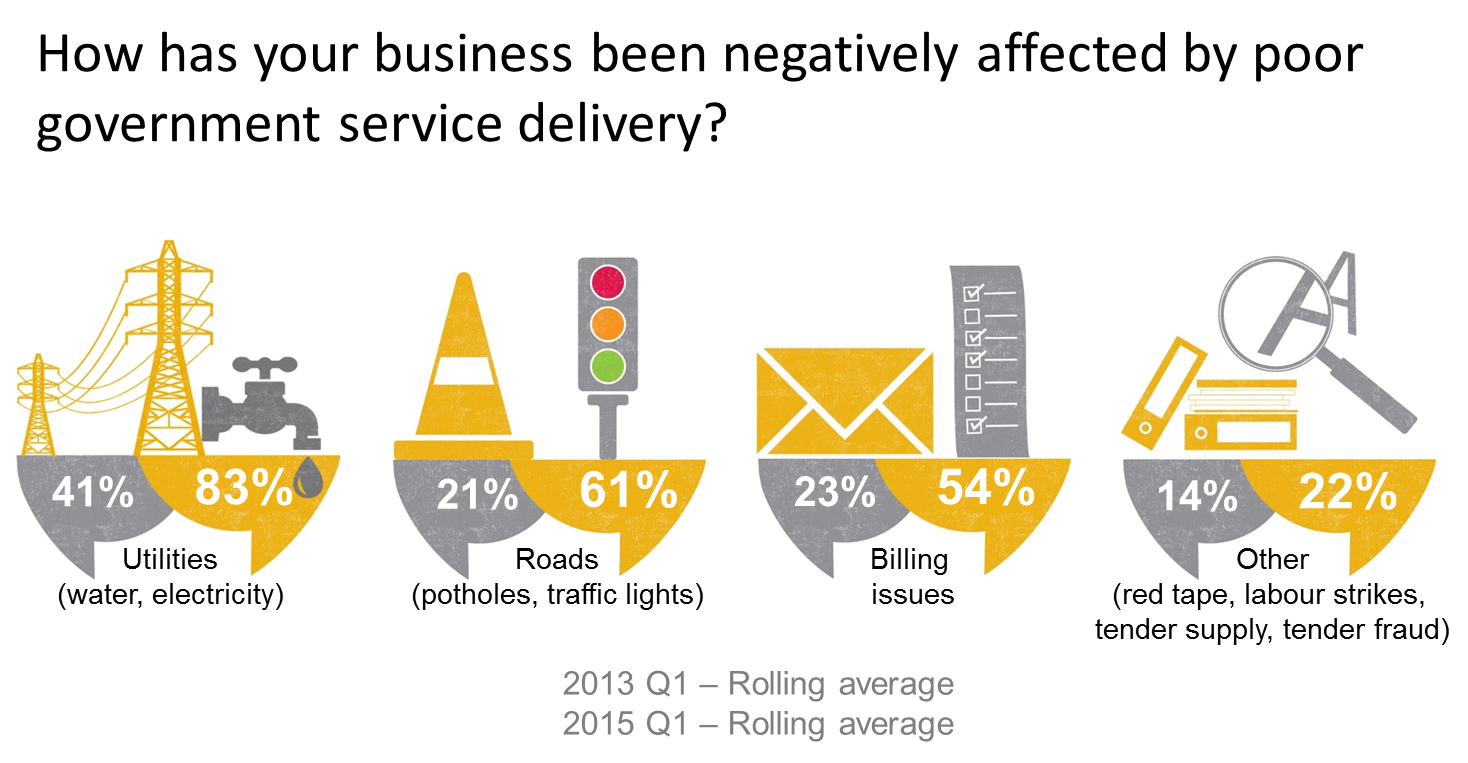 New legislation awaiting enactment will have negative ramifications for local / foreign investment
A new question in this quarter's IBR survey looked at various pieces of legislation currently before Parliament or awaiting signature by the President.
The Expropriation Bill, Promotion and Protection of Investment Bill, Private Security Industry Regulatory Amendment Bill, Land Act Amendment Bill and the MPRDA all feature legislation in one form or another which will force both local and foreign owned companies to relinquish a significant part of their shareholding either to the State, or to a designated group.
The Q1 IBR research for 2015 highlighted that 72% of SA businesses are aware of this legislation.
When businesses were asked what the impact of these Bills would be if implemented, a resounding 93% stated that the economy would be negatively impacted, while 90% cited slowed investment by foreign-owned companies, followed by 86% stating slowed investment by local companies too.
Eighty-five percent of business executives said that the implementation of these Bills would result in disinvestment by foreign-owned companies while 82% agreed that the legislation would result in a direct threat to property rights.
"At a time when our nation needs to be attracting foreign investment of the greatest kind, Bills which force ownership to be relinquished and those which may cause the dilution of property rights in South Africa will only cause resistance," laments Hannington. "We can only hope that the necessary parties within Government will hear international and local business pleas for key sections in these bills to be reviewed and revised in order to create a more attractive business environment which secures our future business prospects."
Hope scores 1/6 this quarter
The good news from this first quarter's IBR findings is that business executives continue to be highly compliant. The Q1 findings highlight that 91% of those surveyed are aware of the new Protection of Personal Information Act (POPI) that was tabled in Parliament during November 2013 and which is currently awaiting enactment. In addition, 63% of the businesses surveyed have already made provisions within their business to comply with the new legislation while a further 21% hasn't done so yet but admit that they are actively planning to make provisions shortly.
"As a nation, South Africans are renowned for being very compliant. Whether it's in terms of adhering to the SARS requirements, conforming to the new Companies Act or – in this case – preparing for POPI," says Hannington. "It's encouraging to see active business participation in new procedures which will dramatically affect IT strategy and business processes going forward."
The POPI Act provides strict guidelines, among other things, on what data can be obtained, how that data can be used, and the requirement that it should be kept up-to-date.
Seventy-two percent of businesses surveyed stated that their business strategy plans already include the prospect of breaches to IT Security as a potential threat to the future of the business.
Conclusion
"When factors affecting South Africa's business stability are taken into account, it is clear to see that day-to-day business functions are sadly being hampered by a wide variety of macro-economic problems. These issues need to be addressed, and business has to collaborate with local and national government as well as the unions and other labour associations so that together steps towards an improved business environment can be achieved. No more waiting – the time is now," concludes Hannington.