Grant Thornton's International Business Report for the third quarter of 2016 reveals that South African business executives are net 10% optimistic about the outlook for the country's economy in the coming 12 months.
Just 10% optimistic may seem like a poor outlook, but compared to SA business executives' extremely pessimistic outlook during Q1 of this year when a negative 41% (-41%) was recorded, the +51pp improvement in business optimism since then is certainly promising.
Grant Thornton calculates business optimism as a balance statistic. This is calculated by measuring the percentage of respondents who reported a positive outlook, less the percentage who reported a negative outlook for the year ahead. In the case of Q3 2016 the outlook has returned to a positive outlook for the first time in the past five quarters with net 10% more optimistic responses expressed than negative.
How optimistic are you for the outlook of your country's economy over the next 12 months?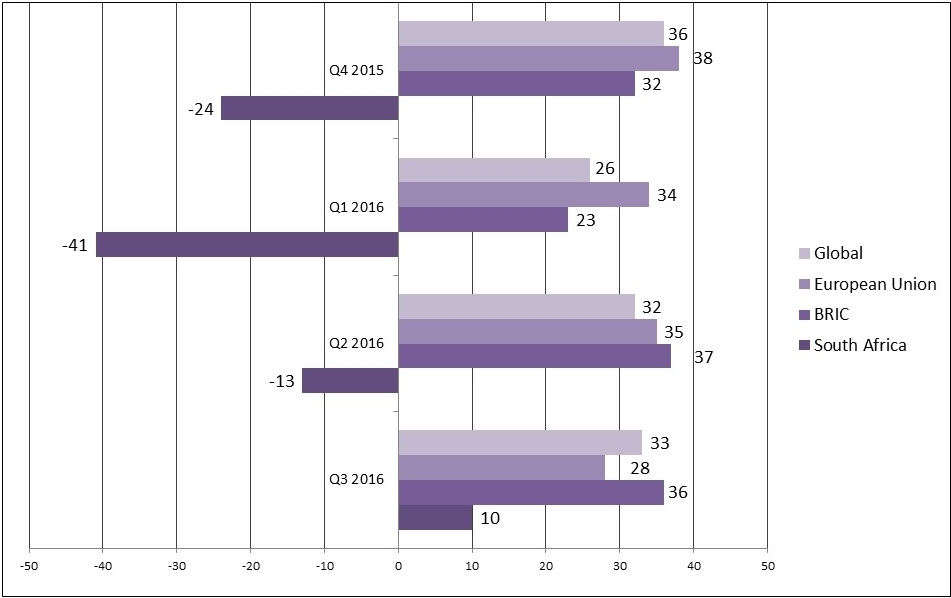 [Source: Grant Thornton International Business Report (Q3 2016)]
"The South African political landscape is very rocky at the moment with many highly contentious issues are currently being debated in the public domain and within National Parliament," says Deepak Nagar, Chairman of Grant Thornton South Africa. "But one thing that is a huge positive for our country is that the nation's democracy is really and truly working. We believe this is the key reason why South African business executives seem to be more upbeat than they were earlier this year despite all the issues."
Nagar adds that this optimism is certainly not stemming from a stable economy in any shape or form.
The International Business Report (IBR) from Grant Thornton provides tracker insights from around the world on a quarterly basis. These findings are from the IBR's third quarter tracker data for 2016 to end September, revealing findings from business executive interviews held between July and September 2016. The survey presents perceptions into the views and expectations of over 10 000 C-Suite executives in privately-held and listed businesses, across more than 37 economies (more than 2500 interviews per quarter). Regional and national perceptions are also researched every quarter for South Africa, from 400 SA privately held business executives annually (100 executive interviews per quarter) regarding crime, service delivery and political climate.
"Pronounced change in mood" – global business optimism Q3 2016
The IBR for Q3 highlighted sinking levels of business optimism globally stirred up by major international political events. The UK and EU countries most exposed to Brexit, experienced the greatest knock in confidence with US companies feeling shaky in the lead up to the presidential election. Data for Q3's IBR includes data to 30 September, thus the information excludes any reaction following the US elections in November.
The research for the third quarter of 2016 revealed a pronounced change in mood over the last quarter in the UK (-19pp), Ireland (-24pp), France (-18pp) and Spain (-19pp), with the EU and the Eurozone regions both suffering a 7pp decline. Globally, business optimism stands at net 33%, rising 1pp from the previous quarter but falling 13pp over the year.
Ed Nusbaum, Global CEO of Grant Thornton, said: "Political events like Brexit and the US presidential election understandably rattle the global economy and test the resilience and elasticity of businesses worldwide. In general, businesses do not like uncertainty, and that is what is happening."
A downturn in confidence in the UK which is observed in Grant Thornton's IBR survey closely mirrors the unfolding of Brexit. Before the turn of the year, optimism was riding high at 74%. But then, in the lead up to the vote, it fell away sharply to 40%, reaching its lowest levels since the start of 2013 with news of the result. This is consistent with declining expectations across seven out of eight business indicators. Confidence has been hit across parts of Europe, too, where economies are waking up to a post-Brexit reality.
Economic uncertainty is biggest constraint to business growth worldwide, and second greatest constraint in SA
When businesses were asked what they believe to be the biggest constraint to business growth and expansion, economic uncertainty was recorded as the greatest constraint for businesses worldwide during the third quarter of 2016, with 38% of businesses globally lamenting this issue. A lack of availability of a skilled workforce is the second biggest constraint globally (Q3 2016: 30%).
South Africa vs Global Business Constraints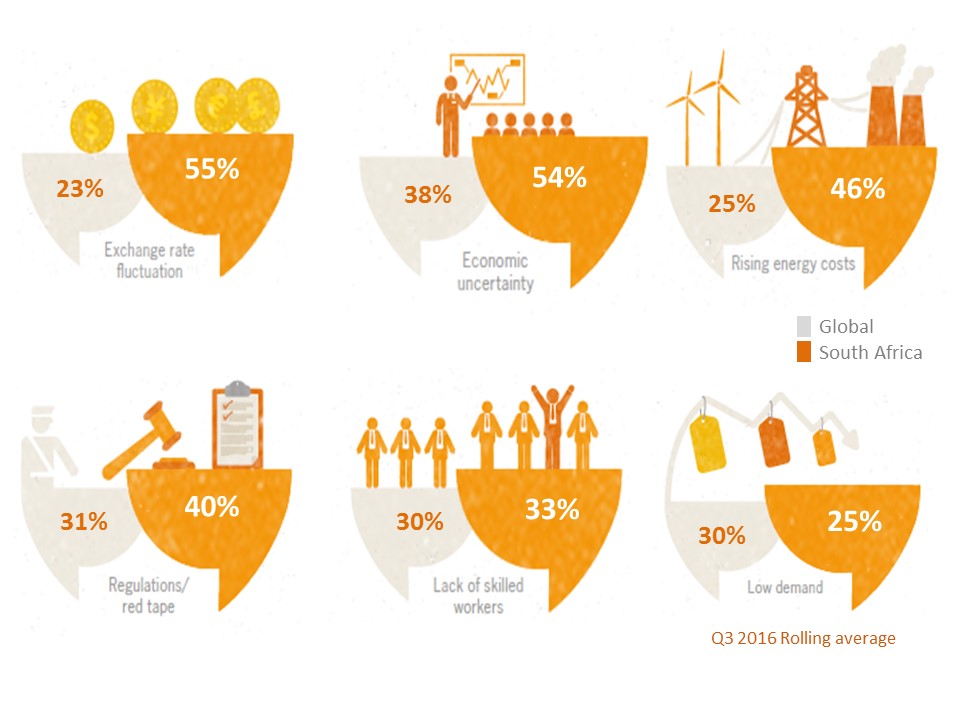 [Source: Grant Thornton International Business Report (Q3 2016)]
In South Africa exchange rate fluctuations topped the list as SA's biggest constraint to business expansion, with 55% of business executives highlighting this factor. The second biggest constraint to business growth and expansion in South Africa is that of economic uncertainty with 54% of executives saying this limits growth opportunities for business.
"Our rand has been affected by a series of 'mood swings' which have impacted the currency all year long. Not only have the local factors impacted our currency, but international occurrences such as Brexit and the dramatic campaign leading up to the US Elections have resulted in the rand declining and strengthening continuously," says Nagar. "No doubt the fluctuating exchange rate has resulted in business executives being more cautious about expansion plans this year – hence why this factor was ranked as the biggest constraint to business growth, according to our research."
Rising energy costs is South Africa's third biggest constraint limiting business expansion, with 46% of business executives concerned about this matter.
Overregulation and red-tape is the nation's fourth greatest constraint to business expansion with 40% of SA businesses stating this, while a lack of a skilled workforce is constraining 33% of business executives' growth plans.
"Earlier this year, the CIPC announced a new online system in partnership with major banks whereby new company registrations, new company bank accounts and the required tax numbers could all be applied for and obtained seamlessly. Initiatives such as these help to ensure that regulation and red tape issues are less of a burden to business growth, which is laudable," Nagar concludes.