We combine deep industry expertise with newly uncovered insight to offer you long term solutions that are both illuminating and actionable for your company's...
With our forward-thinking approach, we can help you identify business risks and potential obstacles and help clients leverage legacy and emerging technologies...
We offer specialised audit and advisory solutions to the banking, treasury, and other financial services sectors.
We at SNG Grant Thornton are uniquely placed to provide proactive service delivery and expertise that is locally focused in the longer term to help your...
Our team possess a wealth of expertise and a strong record in this industry to bring you pragmatic solutions that are realistic and sustainable
We assist both public and private sector organizations to adapt to the shifting tourism environment.
We know that every organisation is different. We offer your organisation advice and tailored solutions based on our Education Sector expertise to meet its...
Related insights: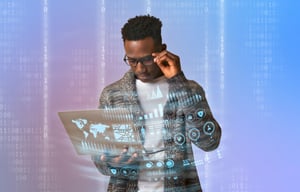 How are you ensuring your organisation is sustainable for the future?
Our core focus is to go beyond the brief to offer our clients a wide range of bookkeeping services, business advice, tax services, Payroll, and business administration using the latest Cloud Technology.
This enables clients to do business from anywhere using mobile devices and ensures that SNG Grant Thornton will be on standby to offer only the best cloud accounting services and business automation tools. As South Africa has moved to a remote working structure, SNG Grant Thornton can now service any client nationwide and still provide the personal touch with your business needs to grow.
Small to medium enterprises (SMEs) and start-up businesses are welcome as our technology, and mobile working structure enables us to help any business grow. Our Cloud Accounting Division allows our clients to focus on their business and identify growth opportunities while our team handles the burden of financial administration.
Our Cloud Accounting services
Tax Compliance
Today's business owners have an extremely difficult task – not only are they expected to run their business within industry rules and regulations, but they also have to balance the burden of being an employer, VAT vendor and taxpayer - this can be a lot to balance!
SNG Grant Thornton Connect can assist you with exactly that.
We specialise in the demanding world of business tax and can navigate the pitfalls for you. Our service offering includes the following:
Completion and submission of bi-annual provisional tax returns
Completion of annual income tax return for companies, trusts and exempt institutions
Dispute resolution
Personal income tax calculations and submissions
Dividend and Royalty withholding tax returns
IT14SD preparation
New registrations
eFiling queries
Tax Clearance Applications for Good Standing and Tender
Accounting
No one starts a business so they can spend all day bogged down by administrative tasks and bookkeeping. It is about being passionate and bringing their idea to life. With our cloud accounting service, you have the power to automate tedious tasks and take back your time.
Whatever the size of your organization, we will motivate you to find your instinct for growth so your business is running effectively. We are here to deliver comprehensive, efficient and confidential services that fit your business.
What we provide to our clients:
Accounting Officer services
Accounting processing of the day-to-day upkeep of your business's financial records
Document management – manage and track your receipts, bills and statements simply and efficiently.
Accounting Reconciliations
Management accounts specifically for your business needs
Financial statement preparation to comply with legislative requirements
Budgets and Financial forecasts
Preparation of value-added tax (VAT) returns, SARS review and objections
Administrating bank accounts on behalf of offshore clients registered in South Africa
Trust administration services with a focus on back-office administration
Business Process Outsourcing
Cloud solutions for accounting systems including setting up client and support during the conversion process
Payroll
Our services allow you to concentrate on your core competencies. As an external service provider, we take on your payroll administration on your behalf, thus creating space for you to concentrate on what is really important.
We work in partnership with you to meet your obligations and pay your employees accurately and on time, every time.
Our payroll service includes:
Payroll calculations
Payroll tax submission (EMP201 & EMP501)
Payslips
Submission of COIDA
IPR5's yearly
Timely legislative updates
Access to other services such as tax, accounting and secretarial services
Co-ordinating payroll accounting with financial accounting
Assistance in UIF and SARS audits
Bank upload files for salary payments
Secretarial Services
We provide businesses with a compliance service in order to ensure that your business complies with all legislated requirements, including back-office company secretarial services and governance support.
Our services include:
Company registrations and all amendments to CIPC

Consolidating share capital, share transfers, redemptions, re-purchases, change of directors, lodgment of annual returns, iXBRL and compliance checklist as well as all related statutory requirements

Compliance with the Companies Act 71 of 2008
Formation of all types of Companies with CIPC
Drafting of Memorandum of Incorporation and all amendments to MOI
Consolidating share capital, share transfers, redemptions, allotments, re-purchases
Changes to directors, company secretary, auditors, year-end & registered office
Lodgement of annual returns, iXBRL conversions and compliance checklists
Compiling of share registers, drafting of resolutions and maintenance of statutory records
All amendments to Close Corporations
All other related statutory requirements
| | |
| --- | --- |
| | Accounting and bookkeeping services - With remote access to your data, you can manage your business in a well-organized and streamlined process. |
| | Automated document management - Manage and track your receipts, bills, statements, and emails simply and efficiently to free up more time. |
| | Payroll and HR Services - Automate your payroll calculations, reports, SARS submissions, and tax compliance. |
| | Payments - Streamline and automate your payment process and see everything in one place to have better peace of mind. |
| | Reporting at your fingertips- Monitor and forecast your cash flow, track KPIs and gain timely information for better budgeting and transparency. |
| | Financial data backups – These are always safe and in the cloud for you to access anytime and anywhere. |