We combine deep industry expertise with newly uncovered insight to offer you long term solutions that are both illuminating and actionable for your company's...
With our forward-thinking approach, we can help you identify business risks and potential obstacles and help clients leverage legacy and emerging technologies...
We offer specialised audit and advisory solutions to the banking, treasury, and other financial services sectors.
We at SNG Grant Thornton are uniquely placed to provide proactive service delivery and expertise that is locally focused in the longer term to help your...
Our team possess a wealth of expertise and a strong record in this industry to bring you pragmatic solutions that are realistic and sustainable
We assist both public and private sector organizations to adapt to the shifting tourism environment.
We know that every organisation is different. We offer your organisation advice and tailored solutions based on our Education Sector expertise to meet its...
Related insights: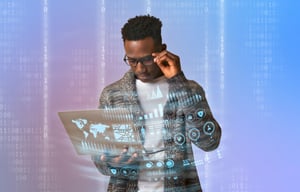 How are you ensuring your organisation is sustainable for the future?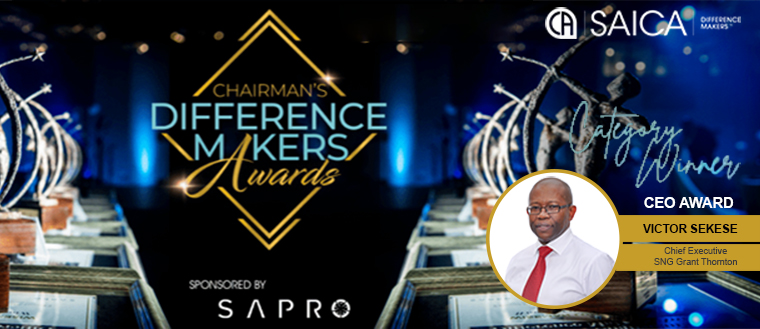 As someone who has always had a love and a passion for the accounting profession, Victor Sekese, group chief executive at SNG Grant Thornton, was the ideal candidate to receive the Difference Maker CEO award.
''I love the accounting profession very much. I am passionate about the profession, having served in it for some 38 years since my student days,'' says Victor. ''The love for the profession sustained me in the early days of my training and helped me to overcome the challenges of workplace racial discrimination that was prevalent at that time. Ironically these challenges contributed to my professional formation and my subsequent career direction.''
Victor feels blessed with a career full of highlights and achievements. "But one that stands out, is the formation of Sizwe NtsalubaGobodo, affectionately referred to as SNG, in 2011, this strategic move catapulted two medium-sized black firms to the fifth largest firm in Southern Africa. The merger served to redefine the landscape of the accounting profession. ''We soon realised after the merger that, as a firm, we carried the hopes and aspirations of the nation South Africa, as we were regarded, arguably, as a model firm for corporate South Africa to emulate.''
The firm provides an opportunity to aspiring black accountants who would otherwise not be granted access to the profession. SNG subsequently enhanced its global reach and capability by joining a strong global network and rebranding to SNG Grant Thornton.
''I am proud that this move did not change the character of who we are and what we stand for. It is still a black firm, committed to unleashing the economic potential of our continent. I am privileged to have had opportunities throughout my career to have lectured, tutored, and mentored students, many of whom have ascended to influential, prominent leadership roles in both private and public sectors. They are making an impact in our economy and society.''

Even so, Victor is not entirely sure why he received this prestigious award. ''I suppose that the work of my colleagues at SNG Grant Thornton highlights the generational impact we as a firm have in our society. My colleagues' commitment and dedication to making a difference regardless of the circumstances must have caught the judges' attention. I am also thankful to my colleagues for giving me space to serve my community in different capacities over time, previously as the president of ABASA and now in various NGOs that are working to better the material conditions of our people. I, therefore, owe this award to all my colleagues at SNG Grant Thornton.''
He feels humbled by the recognition. 'I believe that there are many fellow professionals who are doing great work in making a difference and I am counted amongst them. The awards further encourage and energise me to continue on this path of making a difference.
Victor believes human beings were not designed to be solitary. "We are social beings dependent on others for our well-being. I, therefore, do not believe that one can claim to be successful in the context of the abject poverty and suffering that we witness daily. Each one of us needs to find something to do within our respective areas of influence to contribute to making a difference and to bring hope to the life of a fellow human being, no matter how small. The collective efforts of everyone will result in a larger societal impact. He would therefore like to challenge every professional to seriously consider adopting the adage 'lifting as we climb' as a personal motto. Consistent commitment to such a philosophy will positively impact society and change the stories of many in our beloved country.

For the rest of his life, Victor Sekese will continue to pursue opportunities to grow and scale what he is already doing with various initiatives, to increase societal impact to a national level specifically in the education sphere. 'Education is arguably the best tool to unlock innate personal potential and therefore powerful in eliminating poverty: