We combine deep industry expertise with newly uncovered insight to offer you long term solutions that are both illuminating and actionable for your company's...
With our forward-thinking approach, we can help you identify business risks and potential obstacles and help clients leverage legacy and emerging technologies...
We offer specialised audit and advisory solutions to the banking, treasury, and other financial services sectors.
We at SNG Grant Thornton are uniquely placed to provide proactive service delivery and expertise that is locally focused in the longer term to help your...
Our team possess a wealth of expertise and a strong record in this industry to bring you pragmatic solutions that are realistic and sustainable
We assist both public and private sector organizations to adapt to the shifting tourism environment.
We know that every organisation is different. We offer your organisation advice and tailored solutions based on our Education Sector expertise to meet its...
Related insights: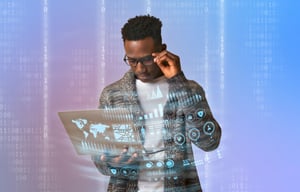 How are you ensuring your organisation is sustainable for the future?
Information is a strategic resource; your information systems power the financial and operational integrity of your organisation. Our information technology services ensure that the IT effectiveness of your organisation is continuously improved.
Our team of audit experts can help you navigate the complexities and provide you with robust independent assurance that your IT risks, key management priorities and core systems are being appropriately managed.
Book a call today and learn what our robust IT Advisory services can do for you.
Our services include:
IT Advisory
IT strategy
Solution selection
Governance of ICT
IT policies and procedures
IT controls
Cybersecurity
IT due diligence
Digital forensics
IT risk assessments
Cloud computing
Social Media-related risks
SOX IT Controls testing
IT Assurance
Service Organisation Control (SOC 1/2/3) audits & reports (ISAE 3402 & AT 101)
General controls reviews
Detailed operating system security reviews (NT, W200x, UNIX, mainframes)
Internet and firewall testing
Application controls reviews (ERP and in-house developed applications, etc)
Pre and post system implementation reviews
Database reviews (Oracle, ingress, SQL Server)
IT disaster recovery and business continuity reviews.
Continuous auditing using CAATs.
IT solutions
Continuous monitoring using CAATs
Data analytics
IT project management
Capacity building – we can train your IT auditors and help build capacity in your internal audit function
Training/seminars, coaching and mentoring.